Fishing-rules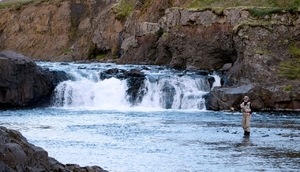 In Norðurá general salmon fishing law applies and all anglers should familiarize themselves with these. Some specific rules apply to this river additionally. Fishermen are asked to respect Icelandic nature, only to use fishing gear that is allowed, disinfected at arrival in the country and not to litter. The river keeper of Landowners association of Norðurá is allowed to check fishing gear and catch. The phone number of the river keeper is: +354 860 0333.
In both Norðurá I and Norðurá II only fly-fishing is allowed. Fishing shifts are from 08-13 and 16-22. After August 14th the times are changed to 08-13 and 15-21 O'Clock.
The riverbanks and environment should be treated with respect. No rubbish should be left on the riverbank when an angler leaves.
All catch is to be entered into logbook in the lodge.
All large salmon that are caught in Norðurá shall be released, this applies to all salmon that are 70 cm or longer.
It is allowed to kill 1 smaller salmon per watch.
If large salmon must be killed due to gill bleeding the lodge can claim it.
Also if more salmon have been killed than allowed then the catch can also be claimed by the lodge.
Cordially yours Veiðifélag Norðurár/ Landowners association of Norðurá