Flóðatangi
Beats Norðurá I
Beats Norðurá II
The mountain (Norðurá II)
Munaðarnes
Flóðatangi
Map of Norðurá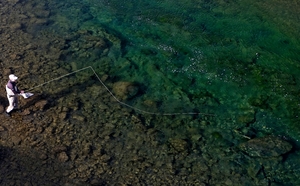 The bottom part of Norðrá is a two rod trout area which is called Flóðatangasvæði (Flooding point area). All of the salmon that runs up Norðurá goes through here so there is always a chance of catching one. In the area there are also local stock of trout, sea trout and river trout. The licences have been and still are very cheap. The area holds a few well known pools, like Kastalahylur (Castle pool), Hlöðutúnskvísl (Barn field branch) and Ármót (Confluence) but offer many others as well. The angling boundaries are well marked and it is very important not to cross them.
This year, like last year, Efling Union and BSRB Union have leased this are and the licences are are sold at their service centres at Svignaskarð and Munaðarnes. You can call Efling Union at Svignaskarð at +354-893-1767 and BSRB Union at Munaðarnes at +354-852-1601 or just drop by.
The area is quite accessible. If you come from the south, on Highway no. 1 you turn right at Baulan gas station and convenience store, into road no. 50. All trails are marked with big signs and each pool is individually marked on the bank.
The Flóðatangi area is family friendly and very suitable for beginners. Both are the prices moderate and the surroundings wide and low so it is easy to keep an eye out for young anglers. This is the only part of the river which allows other bait than fly. You can also use worms and spinners. Angling hours are from 7 am to 1 pm and 4 pm to 10 pm. You may kill 2 salmon per shift others you have to release as all salmon that are 70 cm and long you must without exception release. If you intend to release the fish you have caught, it is important to touch it as little as possible and if you can, loosen it off the hook while the salmon is still in the water.
Before you head out to the river you are required to stop by the service center of the union of which you bought your licence to get life jackets. There you can also pick up your copy of the river guide pamphlet which has all the further information you may need. After you have finished your fishing you return the life jackets to the service center and log the days catch.
You should always use the life jacket when you are out on the bank, children especially, and it is strictly forbidden to drive anywhere but on the marked trails. In this way we show our respect for nature and our surroundings.